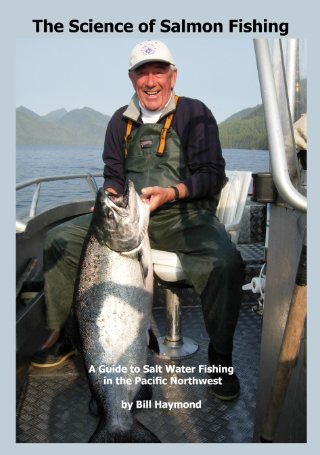 "A very comprehensive guide to fishing the North Pacific. Bill has put together a "must read" for any novice saltwater fisherman and even experienced fishermen will find both entertainment value and tons of useful information throughout." Terry Schultz, Lodge Manager, West Coast Resorts Milbanke.
"One of the best books on the market explaining in simple terms how to catch fish. I have been fishing over 60 years with many guides and all over the world. I think Bill has done a marvelous job." Darris McDaniel, lodge guest and passionate salmon fisherman.
"Bill provides a very technical guide to salmon fishing. Not only does this book tell you what gear to use it also tells you why that gear works. From novice to pro there is something for everyone in this great reference." Todd Sweet, fishing guide, Reel Fin-atic Fishing Charters.
"A great read for the beginner and expert alike. Bill spends time on the basics of how to fish, including rigging, bait, spoons and knots, as well as the nuances of water temperature, feeding habits, how the salmon strike, and more. This creates a more complete understanding that will get you to the top of your fishing game and catching more and bigger salmon." Tom Miller, lodge guest and beginner fisherman.